"Everything we do begins with love," says Amber Kelleher- Andrews co-Ceo of Kelleher International Matchmaking Service. "We are so steeped in this reality as a company that it comes through in everything we do. Our company culture is based on this and every employee at Kelleher says that this is what keeps them so excited about coming to work every day."
This love-based culture starts first and foremost with our purpose as a company which we state as Transforming lives through purposeful connection and love. Our goal on a daily basis is to assist our clients in finding their dream partner and we start from a very empathetic and dare we say, loving place. The conversations with clients and fellow KI team members are incredibly positive and problem-solving based, even when there are challenges with finding the perfect match. We are always in a solution oriented head-set and willing to learn.
Our mission is to connect people on purpose by inspiring, supporting and facilitating their journey towards becoming the best version of themselves.
As we grow and evolve to create more purposeful connections, this positivity impacts the greater community and planet as a whole. We believe when we create better relationships we create a better world – one heart at a time.
Our company values are Respect, Compassion, Communication, Curiosity and Self-Awareness. All of these drive our daily interactions and define who we are and how we choose to go about our business. "While we've gotten better at defining these things through the years, this was the concept right from the beginning", says Jill Kelleher, founder of Kelleher International Matchmaking Services. "So yes, you can say it's in our DNA"
Since we start with such a strong foundation that is built on this culture of love, it naturally bleeds into all aspects of the company. Our clients benefit directly from this and the journey they take with us is not only incredibly rewarding and fulfilling, but life altering as well.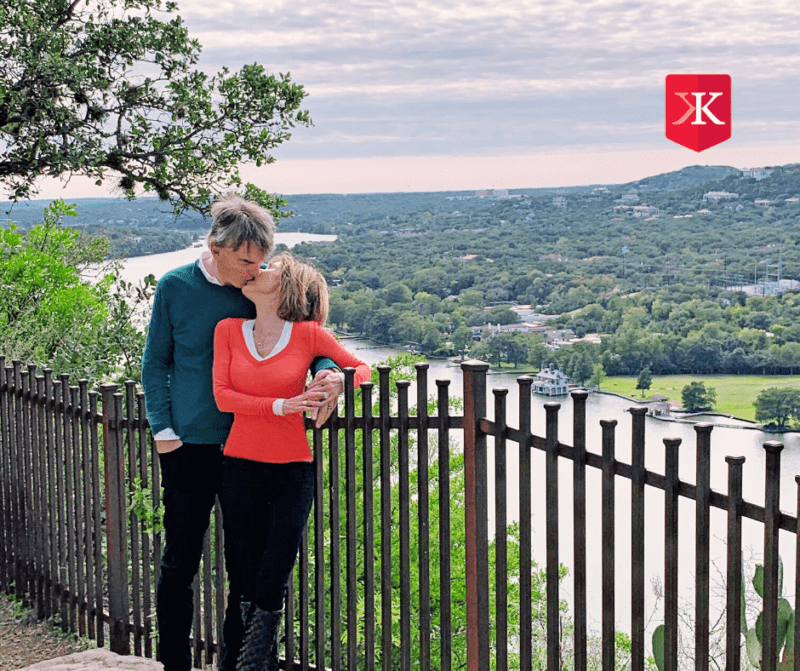 Here's what our client John had to say about his experience after finding his wife through Kelleher International. " I'd decided to change my life because I didn't feel I was as successful as I should be. And not having a partner was a big part of that. I teach a class at the University of Texas in Austin with UT's former chancellor and president, who is seven years my senior. I always tell him, Bill, I'm the expert on dating because I spent almost my whole adult life
And his wife Ginger, also a Kelleher client, had this to say: "My experience was that KI does exactly what they say they'll do."
"They handpick and take their time, so the matches I had felt intentional. There were eight suitors over a six month period from all over Texas. Of those, the one I liked best was John, and he only lived 20-minutes from my house in Austin, Texas. The man of my dreams – who fit my criteria – existed! And we would've never met without the Kelleher team."
"So yes, this is a process", says Jill Kelleher, "and if you are ready for it and trust in the process, you almost always find success with our firm. It may not be the first match, but with our getting to know you through your feedback from the matches, our intuitive and professional matchmakers will hone in on exactly what you are looking for."
"We have the network," says daughter Amber Kelleher-Andrews, "and we've been doing this for thirty five years. We'll find that needle in a haystack. It's the challenge we thrive on and there's no better way to achieve this than in a Culture of Love. It's what we do!"
Kelleher International matchmaking service may be the perfect fit for you. Reach out today and speak with a team member.