Is your life moving at warp speed? Do you find yourself overstimulated, time-starved, and in need of a serious reboot and inspiration boost? If the answer is a resounding "YES!" then consider joining founder of Virgin Group, Sir Richard Branson, and Kelleher International CEO, Amber Kelleher-Andrews, for Success to Significance, a leadership gathering designed for high-achievers like you.
These gatherings have become incredible incubators of brilliant ideas in magical settings. I'm honoured to host entrepreneurs who have the vision to see the potential of a better world.

– Richard Branson
Collaboration is an important avenue to effect lasting change in our lives and communities. Since 2004 when Branson and team created Virgin Unite they have aimed to create sustainable change around the world. Kelleher International is proud to be a part of those efforts through the "Success to Significance" Leadership Gatherings hosted on Necker Island. We are connecting a global community who share our belief that the entrepreneurial spirit and disruptive ideas, together with the right people, can solve the world's most intractable problems.
Held at the Branson home on Necker Island, these gatherings are truly a one-of-a-kind experience where you will meet an incredible group of world leaders while having a lot of fun in one of our favorite places on Earth.  For over five-years our partnership has raised almost $2 million for critical work on some of the toughest issues facing our planet.
Planning for the March 1-5, 2020 Leadership Gathering is in the works. We would love to welcome you into this constellation of passionate and dedicated change-makers. To get you excited about attending we're sharing the experience of past Leadership Gathering events we've co-hosted with Virgin Unite in the BVI's.
Mornings = Inspiration + Impact
Your morning begins with a rooftop breakfast before diving into interactive sessions with guest speakers designed to spark creativity and collaboration. You'll engage in lively discussions and brainstorms led by a collection of individuals who inspire us to tackle the challenges of our times, turn positive ideas into reality, and create a future that makes us proud.
In addition to talks with Richard Branson, you will gain inspiration from some of the world's most innovative thinkers. Past speakers include: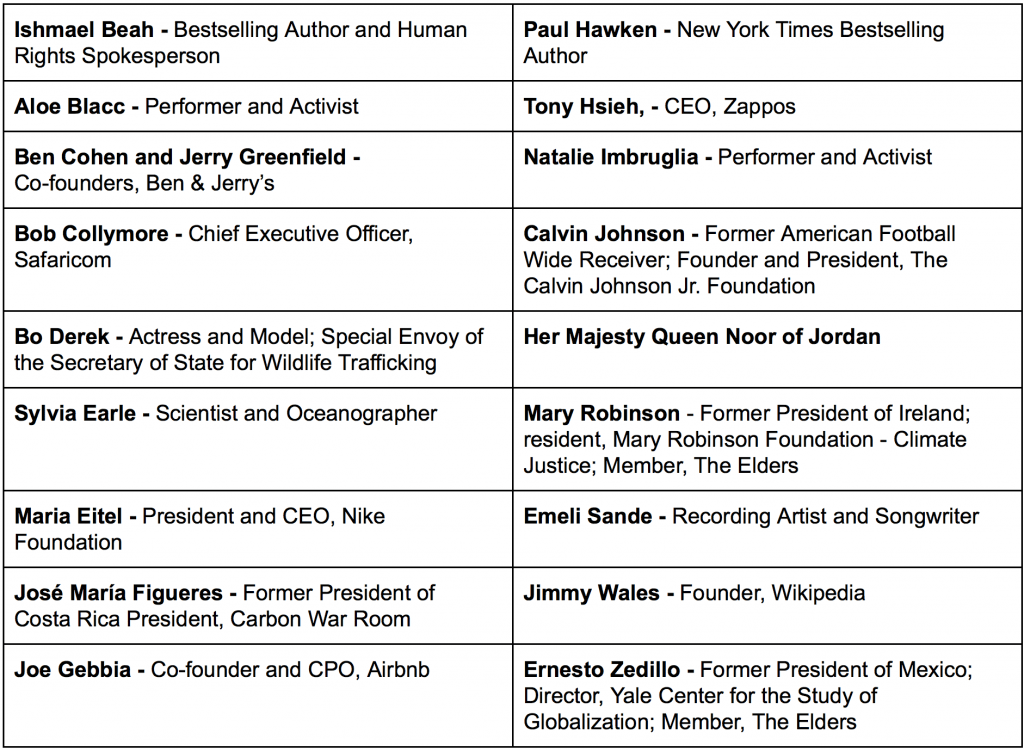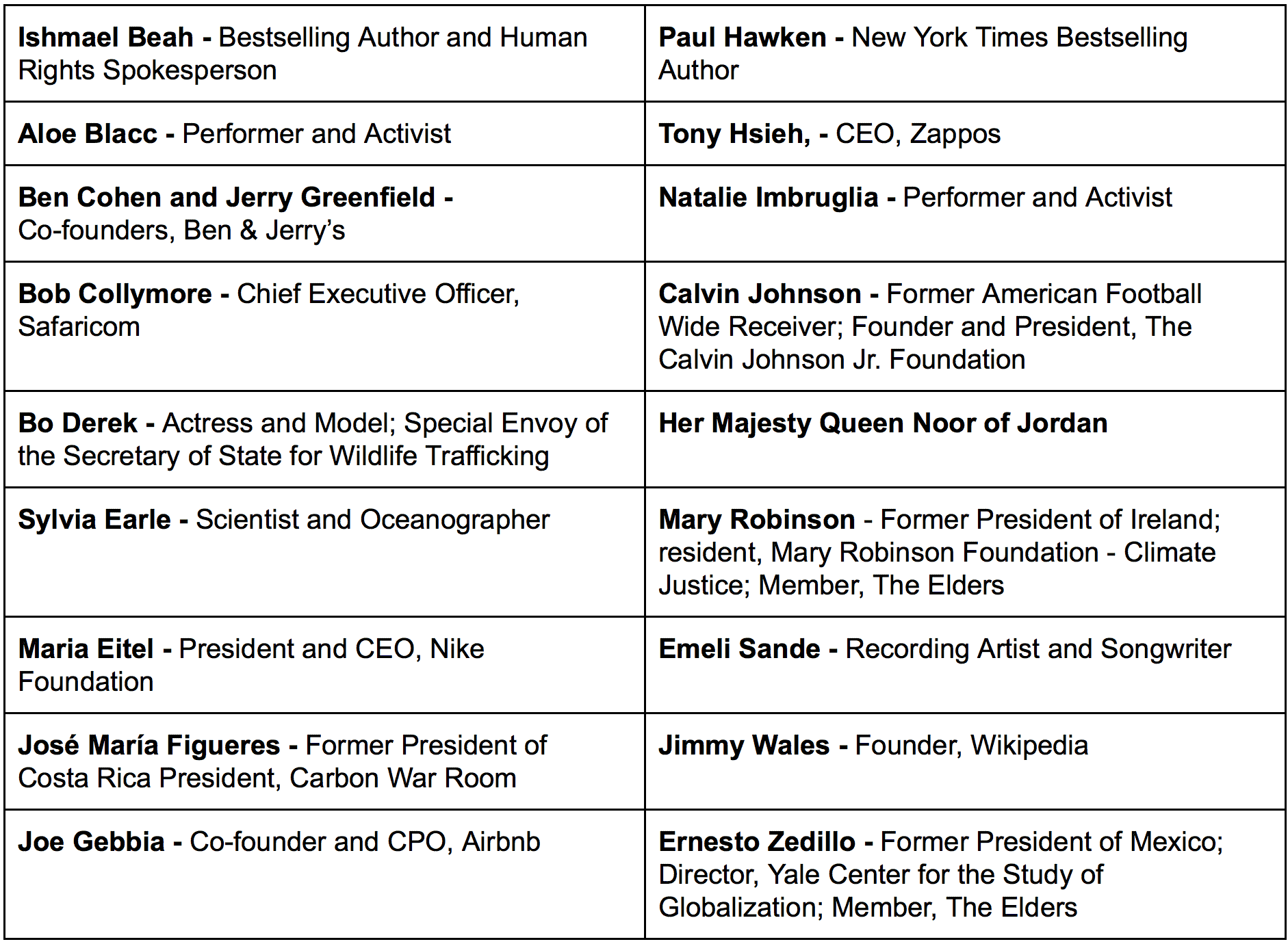 Afternoons = Play + Relax
By afternoon you're free to enjoy spectacular rest and relaxation or roam the beautiful island and experience the activities and natural wildlife of Necker Island. There are diverse activities available to satisfy all guests – from the energetic to the totally laid back. Sail or snorkel, play tennis or volleyball, work out at the gym, chill out at the spa – or just fall asleep in a hammock underneath the palm trees.

The full list of off-time activities on Necker Island includes Tennis, Waterskiing, Windsurfing, Kiteboarding, Snorkeling, Paddleboarding, Sailing, Wakeboarding, Beach volleyball, Scuba diving, Zip-lining, Swimming in freshwater pools, and the Bali Leha Spa.


Evenings = Connect + Dine
In the evenings you'll enjoy well-deserved cocktails, delicious dinners, musical entertainment, and dancing while connecting with fellow attendees, eligible singles, and entrepreneurs. Some past musical guests include Michael Franti, Emeli Sande, Natalie Imbruglia, and Aloe Blacc.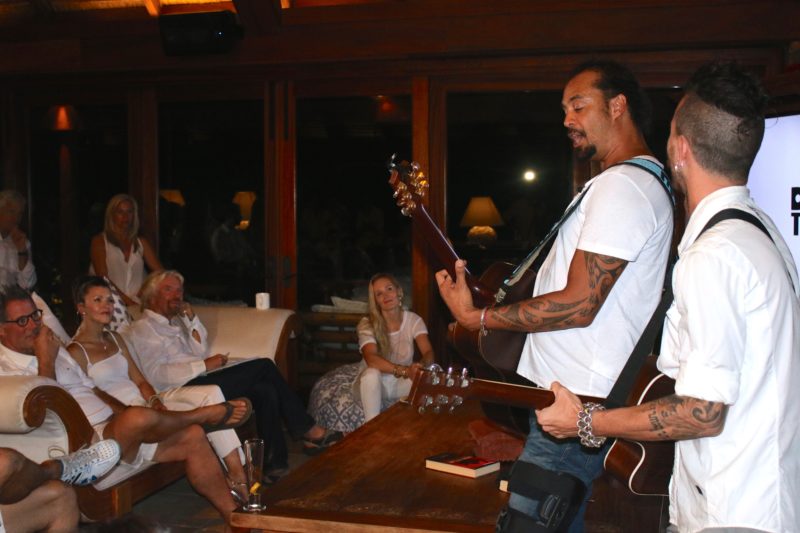 Join Us!
Spaces are limited for the Success to Significance retreat. Learn more and reserve your space for the 2020 Leadership Gathering by emailing Cathey Cotton <[email protected]>.
Of course an individual can make a huge difference, but it's when those individuals come together with like-minded souls that they can change the world forever and, importantly, for the better.

– Richard Branson
Each year proves to be better than the last. The synergy of the guests and the magic of Necker Island provide the perfect environment for new ideas, partnerships, and collaborations. And sometimes, people fall in love. We hope to see you there. – Amber Kelleher-Andrews